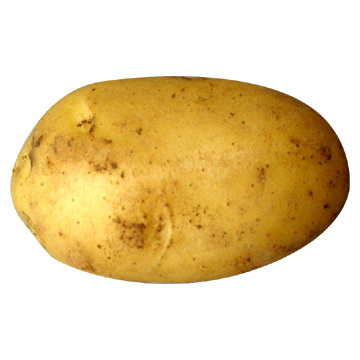 Fig 1. Not an opiate.
Potatoes have begun emerging from the old compost bin (where else would you find them?), giving me the chance yesterday to exercise my gastronomic proclivities. One of the potatoes in particular was so huge that I decided to stuff it - any large vegetable ought to be stuffed, in my view, as it gives you the excellent opportunity to replace all that vegetable with something better: meat, for instance. Or chocolate. Or opiates.
Anyway, in the course of this exciting culinary exercise, I discovered a crucial scientific distinction: that between the dish of
stuffed potatoes
and the dish of
potatoes, stuffed
.
Here's what I did: I took the whopper potato, and sliced it in half. I dug out the centre with a knife and spoon. I took care to leave a narrow wall of .... well, potato between the edge of the potato and the... er, hole in the potato. I chucked all the dug-out potato in a pot to make mash, and I put the two potato husks into another pot to boil them up and make them edible.
While all that was going on I prepared the filling of
meat
of
chocolate
of
opiates
okay it was cabbage and spinach and onion, to be topped off with some fetta when we put it in the potatoes. Fine? (Mutter mutter mutter).
When everything else was prepared, I looked into the pot of potato husks and saw that one husk was ready for the stuffing. The other, well, it was well and truly stuffed already.
And that, dear reader, is the difference between
stuffed potatoes
, and
potatoes, stuffed
.
In conclusion, don't bother with the potatoes. Try opiates instead.
UPDATE!
- Guess which one of these is a potato! (Photo taken by the Baron).