Vibewire
, a local web-based publication for youth, have a couple of writing opportunities going during this election (just announced). More information can be found at the website
Election Tracker.
I'll be going for one of the Election Slacker positions - writing comic-type pieces about our politicians. Here's the 600 word profile I sent through, complete with pictures...
The Slackers Guide to Newcastle!
Welcome to Newcastle, a bustling hub of inactivity somewhere to the east of the rest of Australia, somewhere to the south of the Central Coast, and somewhere to the left of Sydney. It's a city that's
run by the law of economic sloth, not economic growth!

Industry
Traditionally a coal-and-steel based city, Newcastle has since become the unacknowledged capital of the lucrative unemployment industry! There are currently over 100 separate employment offices in the area, including:
- HGT
- MAS
- OTR
- MBA
- MEGT
- IPC
- EMA
These employment agencies will register anyone who is able to know what their acronyms stand for, and is willing to fill out ten pages of impenetrable legal jargon, and give their name, date of birth, tax file number, bank account number, recent employment history, contact of three separate referees, and sign their soul away for eternity.
Having being registered with 20 of these employment agencies for over half-a-year, I feel I can provide a personal testament to their ability to maintain and even improve the already high standards of unemployment in this city. Yes - business is booming for those who make their business other people's lack thereof!
Another increasingly important industry is tourism. People come from all over the country to stand on Honeysuckle Drive and look at the four-storey hotels blocking out the ocean; to look in the empty shop windows at Hunter Street Mall; to pet the buskers at the upper end of Hunter Street; and to take photographs of the picturesque abandoned factories and warehouses in Carrington. As an added bonus, Newcastle also has the Queen's Wharf Building,
one of the most phallic buildings in the world!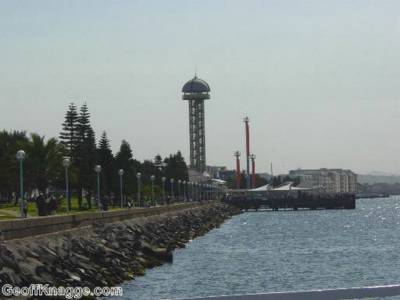 Finally, Newcastle has a thriving arts and culture scene. Silverchair is just one of the many bands from this area to burst on to the world stage: others include The Dissociatives and … um …. hey, did I forget to mention
Silverchair?

Another exciting musical group is Opera Hunter, who put on at least one production every year. Sometimes two. Their audience consists of cranky old women, incontinent old men whose cranky old wives tell them to go, fidgeting school-kids whose teachers tell them to go, and
me.

Every year, the city plays host to the This Is Not Art Festival. Nobody knows what it is about, except that – it is Not About Art, and it involves lots of hippies getting together in conference rooms and talking about what Art Isn't.
Politics
There are many different political groups in Newcastle, everyone in strident agreement with one another. Here is a brief summary of what they stand for:
Labor
More jobs! More taxes!
Greens
Putting the mental back in environmentalism!
Socialist Alliance
Redistribution of Wealth! Making Your Business Our Business!
Patriotic Youth League
It's racism for the younger generation!
No War Collective
We opposed the war in Iraq when there was one, and we oppose it even more now!
In general, Novocastrians are very excited by politics. The local council meetings sometimes even have people show up to them!
The federal seat is currently held by
Labor M.P. Sharon Grierson.
We don't know what she has done in the one term that she has held the seat for, or what she stands for apart from being voted in for a second term. But it seems likely, given the working class history of Newcastle, that she will be elected once more. We are not sure whether this is a Good Thing or a Bad Thing, but it is definitely an Important Thing.
However, when the election comes round, one thing is certain:
most of us will vote.