I love good humour writing, but I wonder why it's so difficult for publishers to come up with decent design. Specifically,
cover
design.
This is the copy of P J O'Rourke's book
'Modern Manners: Etiquette for Very Rude People'
that Borders are selling at the moment. The title font is annoying, the colours are self-consciously whacky, and it has an intentionally ugly photo of the author on the front.
The book itself is wonderful, both a homage to the etiquette writers of the early 20th century and a send up of the idiocy of the modern day. It has over twenty chapter-long essays on etiquette, all set out in neat columnar style. There are tables, and illustrations with 'keys'; the structure of the book is intentionally neat and formal. This cover is ridiculously out of tone with the rest of the book.
The cover illustrations for some authors are better than others. Here's a book by S J Perelman:
This honour seems to be only accorded to dead or retired humourists, who have been elevated to 'genius' status. (I couldn't find the original cover-art for Perelman's 'The Ill-Tempered Clavier', which would serve as a pretty effective counter-example.)
If this cover had been designed when Lennie Lower was alive, it might unintentionally have
caused
his death: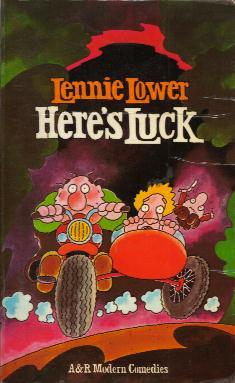 Here, the whacky font meets with epilepsy-inducing cartoons. You'd be able to date humour publications to within a year by the style of the cartoons.
Sometimes, the best thing to do is to leave the author in charge of the art:
This is a great little pisstake of Freudian psychoanalyst by
New Yorker
writers E B White and James Thurber. (When I bought my copy at a Balmain bookstore, by the time I'd got home to Annandale - walking - I'd read about one third: it was that funny.) The cartoons are by Thurber; it was partly on the strength of these that he later became a regularly published artist in the
New Yorker
.
Of course, it's possible to completely underdesign a book, too.
Lysistrata
, by Aristophanes, is one of the funniest plays ever written, though you wouldn't guess that from the cover. I've got a collection of Aristophanes' plays, published by Penguin, with similar designs. Penguin just don't seem to know what to do with some books; their standard approach is to take an inoffensive artwork from the period the author was writing in, and whack it on the cover. (Sometimes they might flash a bit of tit to get the reader in, but that's it).
How on earth could this match up to the opening scene in, say, Aristophanes'
'Peace'
, which has two slaves shovelling bucketloads of crap to feed a gigantic dung-beetle?
The lazy bastards just aren't trying!